Shopping Cart
Your Cart is Empty
Thank you for your business!
You should be receiving an order confirmation from Paypal shortly.
Exit Shopping Cart
Fantastic Weekend At The Island
What a fantastic weekend at the Island for us. The weekend started out very wet on the Saturday for the first Qualifying session. Surprisingly though we were able to qualify the car in pole position. Race 1 was dry and we started from pole. I was an 8 lap race and we were able to lead it from the start and take the win from a hard charging Mark Ruta in his Mazda. The final race of the weekend was a 9 lap race on Sunday. Again we started from Pole and lead for the race for a couple of laps before the tyres went off and the car become very pushy so we were unable to hold off Mark this race but still came home in 2nd position with the fastest lap of the race and also my PB of 1:44:04. All in all we were very happy with the results and are looking very forward to heading back to the Island at the end of November for the Island magic event. We have a few changes to make to the car before that weekend and we think we can go faster. A big thank you to Stathi at Independent motorsport for his tune and also his advice and help with putting a new tune into the car for Sunday and a huge thank you to Kevin Mackrell for a fantastic engine and countless hours that put into making our new exhaust system. To my Father and my wife who are always at the events helping out. We can't do these weekends with out you. Check out the photos in the photo page of the car and also my son having a ball. Looks like he will be taking over the drivers seat soon enough.
All Set for the final round at Phillip Island
Well the final round of Vic Series is on this weekend at the Island and we are really looking forward to it. This will be the first visit to this track since the new surface was laid down and also the first time running on the new AO50 tyre. Keep your eyes open for updates through out the weekend and wish us luck!!!! Hope to see you down there on the Saturday and Sunday.
Well hello to all. Round 4 of the Vic state championship was on last weekend of July 20th and 21st. We decided to get the the VX out to the event. Kevin Mackrell has put this new engine together for us and let me tell you it's fairly serious. The car hasn't been out since February 2012 at Bathurst where we hurt the engine.
So the Saturday was terrible, weather wise and was delayed due to rain. Once we got out we realised that we had a big problem in the front end so after the out lap I went back to the pits to investigate...... It turns out we had a problem in the front bushes so we pulled them out and missed out on race 1.
Race two was on the Sunday morning and brought with it a much better day and a dry track and boy oh boy was it fun. We started from the rear of the grid and got to 2nd in 6 laps. The car was flying apart from having the wrong springs in the car and wrong diff ratios. I had my 9 month old son with me at the track and he decided to unclip the fire extinguisher and during the first race it came loose and rolled around on the floor going off now and then.
Race 3 saw us start from 2nd on the grid but we had a problem and blew the main ECU fuse so that put us out on the first lap and race 4 wasn't any better with a flat battery.
All in all though the weekend was a great sucess and we are very happy with car and looking very forward to getting back out at the island in October with the right set up and diff ratios.
I have attached the clip in the video section of Rev Heads Review and it shows some in car footage of the car at about the 13 minute mark in the clip.
Well until next time, enjoy the video and keep an eye open for some updates soon!!!
Hello everyone and welcome to 2013. First off i'll say sorry for being so slack with mu updates. It's been 12 months already since the Bathurst 12 hour of 2012 and the 2013 12 hour have been run and won. Congratulations to all the competitors that ran this year.
I have had a very busy 12 months with the birth of my first child Jayden Ruggiero Atkinson. It's the best feeling i have ever known and i'm a super proud Dad. He is now 4 months old and i am getting ready for his little go kart already!!!
Well as far as the race car goes. We are currently in the process of building a new engine and hoping for some more power again. We hope to run either Sandown or Philip Island later this year. I will keep you all posted as we go.
Until next time stay safe and keep an eye on the site for more updates.
2012 BATHURST 12 HOUR DELIVERS A CLASS WIN AND TOP 10
The Bathurst 12 Hour for 2012 has been run and won and we won class D and finished 10th outright!!!!! This event was a roller coaster ride from start to finish. For the whole story go to the news page of this site!!!!
Well we are just over a week away from the 12 hour at bathurst. It's been on the dyno and is making good power. Just a few finishing touches. It went to Winton today and surprised us with how fast it was. We had some small problems that will be easy fixed but all in all we are super happy with it. My IP car has been on the dyno and is making more power than ever thanks to Dean Lillie and BC Automotive and Marine in Lilydale. Check out the video's uploaded on the video page.
Season Greeting to all at the end of another great year
Hello to all and sorry for being so slack this year. It has been a very busy year for me with both the good and the bad.
We had alot sucess in the car this year with a PB at the Island and some out right wins with Slicks at some new events we ran.
There has been some fantastic news coming from the Improved Production club with us being able to run a Medium AO50 Yokohama tire next year, It is expected to be at least 1 second per lap faster so that is very exciting.
In other news we are building a new car. It's a Holden Commodore VY and will be a production car to be driven at The Bathurst 12 Hour race in Febuary 24th-26th 2012. This is going a very busy weekend as I am also entering the current commodore in Improved Production and sharing the 12 hour car with Rick Newman and Dean Lillie. This is going to be an outstanding event and I believe we will be very competitive.
Well to all, have a very safe Christmas and New Year and I will keep you all posted as to how we are going with the new car and how the 12 hour event goes both in IP and the main event.
And the year stared much better than ever expected!!!
The year started off with Personal Best by over 1.7 seconds at Phillip Island last weekend. It could have been a lot faster. More in the news Page. Also check out the video page for the in car footage!!!
Legend Of The Lakes has been Run! What an event.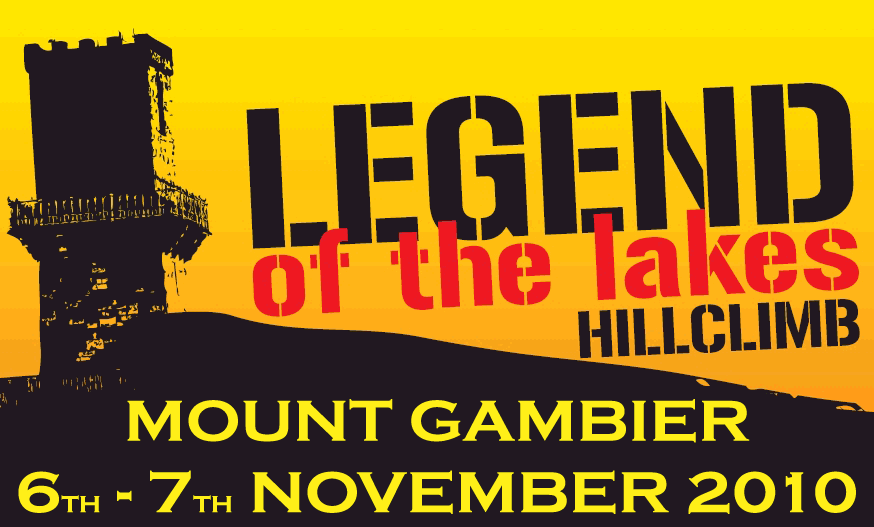 More fun than I have had in a long time. Well done to the all of the people that put the hard work in, to make this event what it is. If you haven't been you should book it in for next year cause it is just fantastic.
I would like to say a big thank you to my sponsor Pirtek Of Mount Gambier for the fantastic support and all the help over the weekend. To Allan, Karen and the kids, Thanks so much for making the weekend what it was.
I'll have some photos and video up soon!!! Click on the News page for more info!
The nationals for 2010 Have been run and won.
Well the Nationals are all over for another year and with great regret we give up the number 1. I would like to say a big congrats to Kevin Ledger who won the event and will wear the number 1 this and next year. Also to IPRA WA for a fantastic event and in particular Mike Kennedy for all your help and support. More in the news page.

Our first weekend in the new car was a success.
We had a fantastic weekend and learned heaps. Looking forward to the Nationals now but still a few more things to get done. More In the News Page!!!!!
Jumpy's Home Page
Hello and welcome to my web site. I have created this site to keep all of my friends up to date with whats going on with my race car.
As you can see from the pictures below we are building a new car. It is a VX commodore and was purchased from Rai Curry at Fabraications. I have photos of the build in the photos page in this site.
I have also attached some links to this site for different services that may be of interest to you all. I have a link to both the IPRA VIC web site and the Gippsland Car Club site.
I would love for people to get on here and have a look at these sites. The road toll keeps going up and it doesn't have too. Join up to a car club and get there and do it on the track. Hill climbs is where I started racing and it was great fun and not too expensive. Take your road car to the track and have a great weekend on the right side of the law.
So please go through and have a good look at my site. Your feed back would be fantastic and I would be happy to answer any questions that you may have. Just go to the contact us page and send me an e-mail.
I will be updating this website with new photos, Videos and progress on a regular basis, so watch this space and lets go and have some fun at the track!!!
/